Samosas - everyone's all time favorite!
---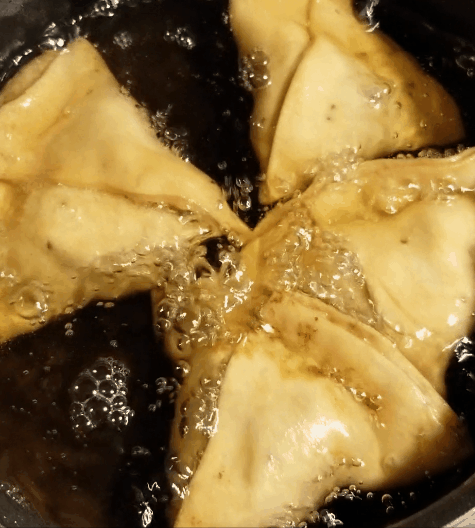 Samosas Sa-Mo-Saaa-s समोस are one of the most profoundly loved vegetarian snack by people of all ages! This is one of the comfort foods that I personally adore and love :D . I remember when we were little, me and my little brother impatiently waited and hoped that our parents brought samosas with them after they returned from shopping, and it was the first thing we would check in their shopping bags :) Ingredient wise, Samosas are very simple dish to make, and the main ingredient of this dish are the boiled potatotes that are used as fillings wrapped in dough sheet and deep fried. In this blog post, I am sharing a tasty Samosa recipe with you, please give it a try!
---
How to make Samosas?
---
Recipe:
Dish Type: Vegetarian
Yield: 4-6 people
Prep Time: about 20 mins
Cook Time: 10 mins
Total Time: about 30-45 mins
Course: Snack
Cuisine: Indian/Nepalese
Author: My mom (Sunita Devi Karn), wife (Anita KC) and myself :)
---
Cooking Utensils
Deep pan for frying
Frying Strainer
1.1. Ingredients for Samosa stuffing
4 large boiled and mashed potatotes
1 large finely chopped Onion
6 cloves of minced Garlic
About 2 inch finely chopped Ginger
Half cup Green Peas
Handful of toasted peanuts (optional)
1 Tbsp each of Paparika powder; Turmeric powder; and Corriander powder
1/4 cup chopped Cilantro
1 Tsp of Garam masala powder
Salt to taste
Vegetable oil
---
1.2 Ingredients wrappers
4 cup of Whole Purpose Flour
2 Tbsp Oil
Salt
1/2 tbsp Cumin seeds
---
Instructions for preparing the Potato fillings:
Take a pan on the stove, add some oil and once the pan is hot, fry the onions, garlic and ginger until golden brown
Next, add green peas and fry until its slightly cooked
Add all the spices (Paparika powder; Turmeric powder; Corriander powder and Garam masala) and cooke for about a minute
Add the mashed potatoes and mix gently
Finally, add chopped cilantro and mix, and let it cool for about 5 mins in the freeze, if possible
Instructions for dough wrappers
In a mixing bowl, add whole purpose flour, and salt, cumin seeds and oil
First, Mix very well with your hand
Then, Add water to make a soft dough
Instructions filing the potato stuffing in the wrappers
Take a small dough, and roll it like a plam-size circle (it does not have to be perfect)
Cut the circle to an almost exact half, making a semi-circle
Take one of the semi-circles, and try to make it as cone by sticking its edges with water
Now add the potato stuffing in the cone, and seal the bottom with water (please make sure its sealed well, otherwise, it can break while frying!)

Once all the samosas are wrapped, fry them in a medium heat for about 10 minutes until its golden brown (see below image)

Serve while hot with Ketchup or any Sauce or chutny you got!!
---
Happy Cooking! And please let me know if you have any questions or comments.
---
---
please support education for all cause by donating today.