BBQ Chicken Gizzards - turning cheap-cut meat into a fine dinning experience!
---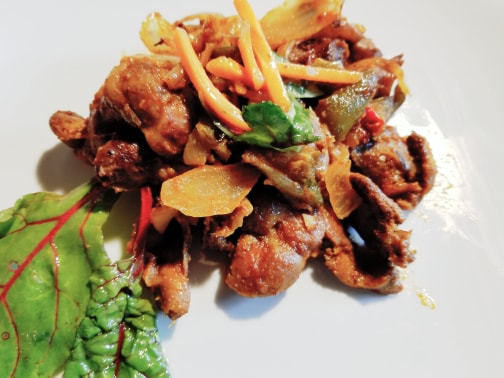 BBQ Chicken Gizzards is a delicous dish prepared with chicken gizzards, which is a cheap-cut meat but has rich texture and great addicting flavors. :) This dish is very easy to prepare and can be served as an appetizer or a main course. Please give it a try :)
---
How to make BBQ Chicken Gizzards?
---
Recipe:
Dish Type: Non-Vegetarian
Yield: 2 people
Prep Time: about ~15 mins
Cook Time: About 30 mins
Total Time: about 45 mins
Course: Main
Cuisine: Indian/Nepalese
Author: Myself
---
Cooking Utensils
Ingredients
1 Lbs Chicken gizzards
1 large Onion
5 cloves of Garlic
1 inch Ginger
1 Bell Pepper
4 Red Peppers (hot)
1 Tbps Vinegar
1 Tbps Cumin powder
1/2 Tbsp Garam Masala
1 Tbsp of Soysauce
2 Tbsp BBQ sauce
Salt to taste
---
Instructions to prepare the BBQ Chicken Gizzards?:
Wash and clean the Gizzards. If reuqired, cut them into desired sizes
In a large bowl, place the gizzards; add vinegar, soysauce, pepper, garam masala, and salt. Mix well and let it marinate for at least 15 mins
Take a tray, and add the marinated gizzards. Top with chopped onions, pepppers, garlic, ginger and hot peppers (as shown in below picture)

---

Place the tray in the pre-heated oven at 450'F (232'C) for 25 min.
Next, take the tray out of the oven and brush the BBQ sauce on top of the gizzards, generously, and place the tray in the oven for another 5 mins.
Serve with a fresh salad or just eat it as !
Happy Cooking! And please let me know if you have any questions or comments.
---
---