Hearty Soup made with Egg, Tofu, Mushroom & Potato
---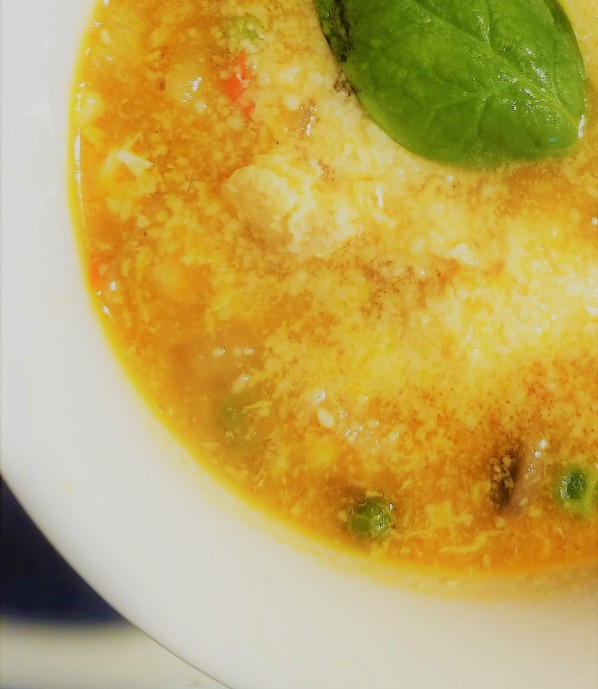 Hearty Soup made with Egg, Tofu, Mushroom & Potato is a delicous soup with amazing flavors and is prefect dish to warm you up on a chilly or a rainy day. Please give it a try :)
---
Recipe:
Dish Type: Vegetarian (contain eggs)
Yield: 2 people
Prep Time: about ~15 mins
Cook Time: About 10 mins
Total Time: about 25 mins
Course: Main
Cuisine: Western
Author: Myself
---
Cooking Utensils
Ingredients
2 Eggs
1 large Onion
4 cloves of Garlic
1 inch Ginger
Tofu (200 grams)
1/2 cup green peas
4 Red Peppers (hot)
1 baked or boiled Potato
4 mushrooms (sliced)
1 Tbps Cumin powder
2 Tbsp of Soysauce
1 Tbsp of Ketchup
1 Tbsp Corn starch
Butter
Parmesan cheese
Salt to taste
---
Instructions to prepare the soup:
Take the cooking pot, add butter and fry tofu and green peas untl slightly brown in color. Add some garlic and soyasauce, and fry it for another 2 min, and remove it in the separate plate

---

Next in the empty pan, add butter and the chopped onions, mushroom, garlic, ginger, and peppers. Fry it until slightly brown in color. Finally add soysauce and ketchup, and fry for another 2 mins.

---

Add hot water and corn starch, and let it come to boil.
Next, add the potatoes and let it come to boil.
Finally, add the eggs and let it simmer for 2 mins

Your browser does not support the video tag.

serve hot with some paremesan cheese!
Happy Cooking! And please let me know if you have any questions or comments.
---
---