---
Egg Ramen Pad Thai
---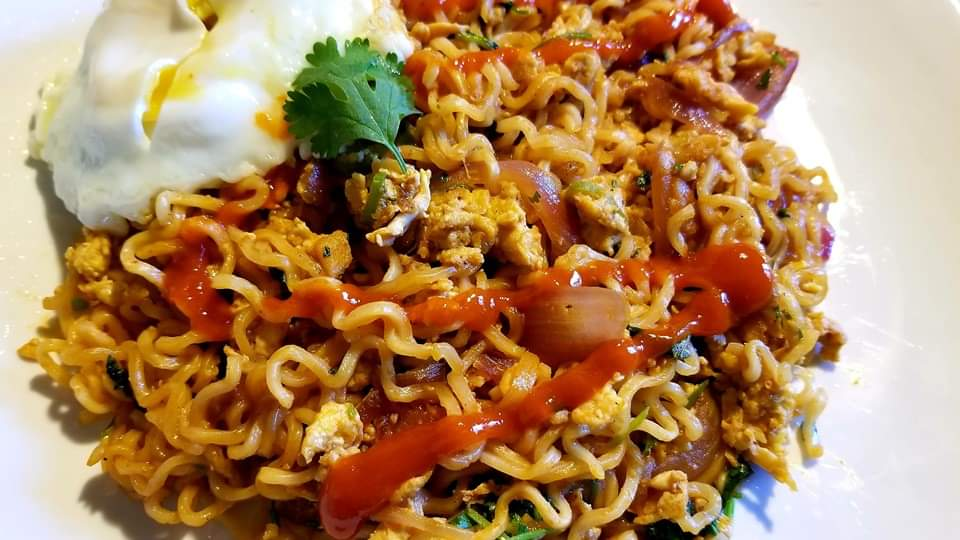 ---
Recipe:
Yield: 2 people
Prep Time: about 5 mins
Cook Time: 15 mins
Total Time: about 20-25 mins to an 1 hr
Course: Main
Cuisine: Nepalese/Indian
Author: Myself
---
Cooking Utensil
1. Ingredients :
2 packets Ramen Noodles
1 lagre Onion sliced
1/2 cup shredded Carrots
1/2 inch ginger
2-3 cloves of Garlic
1/2 cup sweet Peas
1/2 cup Roasted Peanuts
2 eggs
2 Tbsp Ketchup
2 Tsp Soy sauce
1 Green Chili pepper (opional)
1/4 cup Cilantro
Butter (unsalted)
---
Preparing the dish
Steps:
In a pot, add water and boil. Next, add Ramen noodles and let it boil for 2 mins and strain.
Take another pan and add some butter, once melted add the chopped onions, ginger, and garlic and some soysauce; cook for 2 mins
Next, crack the two eggs in a bowl; wisk and add in the pan. Cook for about 1 mins
Add, Carrots and Peas in the same pan, and cook until slightly soft and less crunchy
Next, add the boiled Ramens, some soysauce and ketchup, and cook it for another 2 mins on a high heat
Sprinkle some roasted crushed peanuts and chopped Cilantro and Serve hot!
Happy Cooking! And please let me know if you have any questions or comments.
---
---